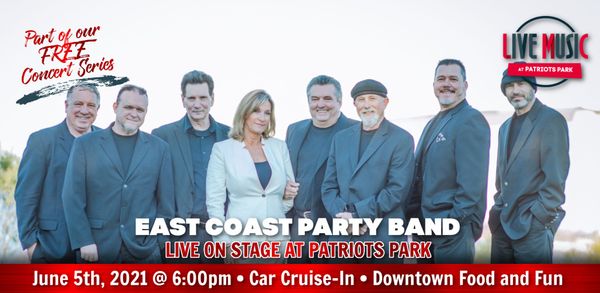 The East Coast Party Band is a versatile and exciting musical/entertainment entity from Mt. Pleasant, South Carolina. In 2009, Mt. Pleasant Town Council, by official proclamation declared the band the town of Mt. Pleasant's "Musical Ambassadors", an honor we hold proudly.  The Party Band has a state-of-the-art sound and lighting system that will serve the largest of arenas to the smallest of venues.  Musical styles include Carolina Beach Music, Soul Music, Fifties music, jazz standards, a sensual array of ballads, TOP 40  and classic Rock and Roll. We play parties, wedding receptions, town festivals, conventions and our specialty is involving the crowd in the show with our special brand of entertainment. Our shows attract all ages and span many ethnicities.
We feel like great entertainment and great music transcend all barriers,  we want to be a part of your next function. Please go to our contact page and let us know when and what you are planning to see if we have the date available. Our management team and support staff are second to none as professionals. We make every effort to accommodate our client's needs. Book the band for your event or simply join us at any "public" venue we might be performing and you will experience our motto which is:

"Let's put ten pounds of party in a five pound bag"!